Overview
Pearson is the market leader in education publishing and services in North America. This is Pearson's largest business, with 2008 sales of £2bn and operating profit of £303m. Over the past five years, it has increased sales at a compound annual growth rate of 10% and profits at a rate of 9%.
Raising student achievement has long been a key priority across the political spectrum in the US. Though the current economic climate has placed considerable pressure on state and local tax receipts – and therefore education funding – spending on educational materials has historically proved relatively resilient. In addition, the new administration's economic stimulus package contains a range of measures to support state funding and education reform.
The education publishing industry is going through a period of significant change driven by the demand for high educational standards and accountability, the shift from print to digital products and a rapidly changing competitive environment.
Our business serves educators and students from early education through elementary, middle and high schools and into higher education with a wide range of products and services: curriculum textbooks and other learning materials; student assessments and testing services; and educational technologies. Pearson has a leading position in each of these areas and a distinctive strategy of connecting those parts to support institutions and personalise learning. In 2008 we began to integrate our North American School and Higher Education companies, which we believe will bring significant opportunities to develop growth businesses, to share investments and technologies and to gain further efficiencies.
| £ millions | 2008 | 2007 | CER growth | Underlying growth |
| --- | --- | --- | --- | --- |
| Sales | 2,002 | 1,667 | 11% | 3% |
| Adjusted operating profit | 303 | 273 | 5% | (2)% |
North American Education: key performance measures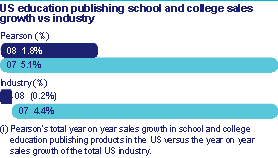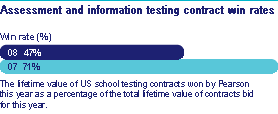 School Curriculum
US School publishing market declined 4.4% in 2008, according to the Association of American Publishers. State budget issues caused particular industry-wide weakness in the supplementary publishing segment and the open territories.
Pearson took an estimated 28% share of the total new adoption market, and 31% of the adoptions competed for. Pearson participated in approximately 92% of the total new adoption market, down from approximately 95% in 2007.
Pearson launched enVisionMATH, an integrated print-and-digital elementary mathematics programme (and the next generation of the innovative and highly successful California social studies programme). enVisionMATH helped Pearson to a market-leading 38% share of all maths adoptions, including 50% in Texas, and sold strongly across the open territories.
Miller-Levine Biology and enVisionMATH programmes were also successfully launched for the 2009 adoption campaign.
The Association of Educational Publishers honoured two Pearson products, enVisionMATH and Longman English Interactive Online Level 2, as the year's 'most outstanding' materials in the field of teaching and learning.
Three Pearson products were named America's best educational software products in the Software & Information Industry Association's 23rd Annual CODiE Awards. KnowledgeBox was named Best MultiMedia Solution, Waterford Early Learning won the Best Course/Classroom Management award, and Waterford Early Learning - Math and Science was named Best Science Instructional Solution.
The US Department of Defense awarded Pearson a five-year contract to provide elementary-school reading programmes, including Pearson's Reading Street, for its schools around the world.
Pearson created a new Educator Development Group, which brings together the company's leading teachercentred businesses in North America, to support teachers at every level from preparation at the college level through to professional development and advanced degrees.
Assessment and Information
The integration of Harcourt Assessment progressed well with strong performances in state testing, catalogue tests and clinical assessments.
Our market-leading state assessments division continued to gain share, winning more than half of contracts competed for by value. Pearson now provides major state-wide testing services to 30 states.
We continue to be a leader in online testing with over 3.8 million secure tests delivered across 13 states during the year, up from 2.5 million in 2007.
Our National Assessments division benefited from new long-term contracts including The American Diploma Project (a three-year contract to deliver Algebra II exams to a consortium of 15 states); the College Board's Accuplacer programme (a seven-year contract to deliver computer-adaptive reading, writing and maths tests to assess college readiness); and The National Board for Professional Teaching Standards (a five-year contract to develop, administer and score its National Board Certification programme for accomplished teachers, covering 25 certificate areas).
We extended our leading position in teacher certification boosted by contract renewals in California (for three years), Oklahoma (six years), and New Mexico (four years). We also won a two-year contract to manage California's certification testing for teachers of English as a foreign language.
Clinical Assessments, which provides a wide range of assessments for personality, behaviour, ability, achievement, speech and language, and career interest, benefited from the strong growth of our AimsWeb data management and progress monitoring service for the Response to Intervention (RTI) market (which monitors children who are having difficulty learning) and the publication of WAIS-IV and MMPI-RF, new editions of the key products for assessing intelligence and personality.
Major contract wins in Student Information Systems include South Carolina (709,000 students), Dallas (165,000 students) and Baltimore (83,000 students).
Our new Edustructures business, which provides interoperable systems to support data collection and reporting between school districts and state governments, continued to win contracts with State Education Agencies. It successfully implemented proof-of-concept projects in Kansas and Alaska, and expansion of projects in Virginia, South Carolina and Wyoming.
Higher Education
The US Higher Education publishing market grew 3.6% in 2008, according to the Association of American Publishers. The industry benefited from healthy enrolments, even in tougher economic conditions, and federal government action to support student funding. We continued to see strong demand for instructional materials that are enhanced by technology and customisation.
Pearson grew faster than the industry and outperformed the market for the tenth straight year.
We continued to invest in established and new author franchises, such as Campbell & Reece's Biology; Tro's Chemistry; Lilienfeld, Lynn, Namy & Woolf's Psychology; and Wysocki & Lynch's DK Handbook.
Pearson's 'MyLab' digital learning, homework and assessment programmes grew strongly and now span the curriculum. Our MyLab products were used by more than 4.3 million students globally, with student registrations 48% higher than in 2007. Evaluation studies show that the use of the MyLab programmes can significantly improve student test scores and institutional productivity.
Custom Solutions grew strongly, expanding beyond textbooks to educational solutions including on-demand authoring of original content; customised technology; and on-demand curriculum, assessments and courseware.
Pearson formed new strategic partnerships to provide materials and online learning services to educational institutions. These included Rio Salado College in Arizona, which has 450 online classes and 48,000 students; the Colorado Community College system, to provide digital textbooks for 17 courses; and Louisiana Community & Technical College System, to provide students with a customised online learning programme across 47 campuses through the combination of custom textbooks, eCollege and MyLabs.
eCollege, Pearson's platform for fully-online distance learning in higher education, increased enrolments by 34% to 2.5 million and benefited from continued strong renewal rates. It achieved good new business performance both in the US and internationally, including Brazil; deployed its new .Next platform enabling rapid new product development; and sustained investment to drive growth in International and K-12 markets.
Pearson achieved strong growth in publishing and related services for students in workplace and vocational education. We launched new partnerships with the National Restaurant Association's leading food safety programme, ServSafe, and the International Fire Service Training Association (IFSTA) fire training programme.